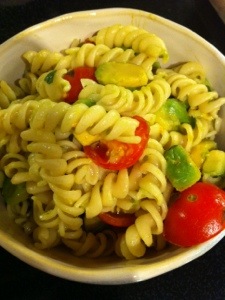 Oh wow. This was insanely good. I made it up pretty much.
Ingredients:
2 cups uncooked pasta
1 avocado
1 cup cherry tomatoes, halved
2 TBS olive oil
2 limes, juiced
3 garlic cloves, diced or mashed
Salt
Pepper
2 TBS basil, chopped
Dash of oregano
Directions:
Cook pasta
In separate bowl, combine olive oil, avocado, lime juice, garlic, salt, pepper, basil, oregano.
When pasta is cooked, drain, and mix in the other ingredients. Toss in tomatoes.
Enjoy!